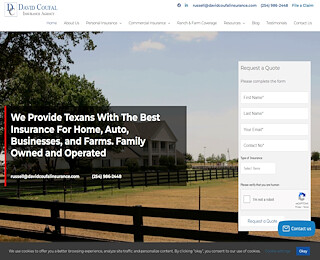 Landlord insurance in Texas offers coverage for property owners renting out residential homes, condos, or apartments. As a landlord, you require financial loss protection resulting from damage caused by severe weather, fire, break-in, and more. Insurance can help you cover the loss of income in case your rental units become uninhabitable because of circumstances beyond your control. To get the best landlord insurance plan, we at David Coufal Insurance can help you find the right coverage that makes the most sense for you.
Our Landlord Insurance Plans
The type of Texas landlord insurance plan you need will depend on different factors. For instance, the frequency and length with which you rent out your premises.
The regular short-term renter – Property owners renting out their primary residence frequently for short periods like an Airbnb host are normally regarded as business owners by their insurance company. They are, therefore, usually not covered by their homeowner's insurance policies. As such, they have to buy a commercial insurance policy.
The occasional short-term renter – For homeowners renting out their main residence occasionally for only short periods, their existing homeowner's insurance policy can be enough. That said, it's essential to inform your insurance provider to confirm coverage. Some insurers might need an additional rider whenever your home is rented out.
The long-term renter –A landlord renting out their property for at least six months will require a rent dwelling policy that protects against losses arising from leasing out a property.
In addition, most policies offer landlords protection against various losses, including:
Liability – A liability policy legally protects you if somebody is injured on your property. For instance, if a tenant falls and is injured on your premises, they might sue you. In such a situation, your insurer can try to reach a settlement and pay the associated costs on your behalf, thanks to landlord insurance for renters. But if a tenant's guest is hurt on your property, what would cover liability in case of a lawsuit is the tenant's renter's policy.
Property damage – Landlord insurance covers damage to your property's structure due to perils such as snow, wind, fire, or hail. The policies also cover personal property like TVs, kitchen appliances, or furniture provided for tenant use. However, it doesn't cover the personal property of tenants. It's important to review the coverage type outlined on the declaration page of the landlord policy. That way, if you notice some coverages like vandalism are not listed, discuss with your insurance agent if they should be added as optional riders.
Loss of rental income – If your property suffers damage in a covered event and you can't rent out your property, your policy might cover the lost rental income. Inquire from your insurance agent whether the rent-loss insurance is part of your policy or has to be included as an optional rider.
Reliable Landlord Insurance Plans
Landlord insurance in Texas is the best way to get protection against life's little surprises. By having the right policy, you cushion yourself in case something unforeseen and bad happens. You also find landlord insurance savings in Texas. If you're considering getting landlord and rental property insurance, we can help you determine the coverage you need depending on your assumed needs. Contact David Coufal Insurance Agency on 254-986-2448.
Landlord Insurance Texas
David Coufal Agency
2549862448
12270 Moffat Road
Temple
TX
76502
View Larger Map