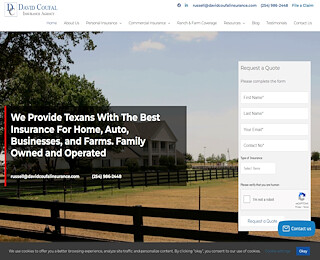 Owning and caring for a horse is far beyond a full-time job but a considerable investment. Also, taking care of a horse is highly expensive, from livery charges to feeding costs. Like all other investments, it's always crucial to do everything within your power to protect it.
The risk of losing a horse if eventually something happens to it could be a significant loss to its owner, which is why most owners don't hesitate to purchase life insurance for their horses. For your Horse Insurance in Texas, we have preferential policies from the horse to its owner.
What does horse insurance cover?
Horse insurance covers different areas and providing varying benefits, so ensures to choose the right one for you. Some of the standard features available are discussed below:
Covers your horse's death – this particular insurance policy protects you against any financial cost that might lead to the death of your animal, be it an accident, disease, or illness suffered by the horse. Disposal of the carcass is sometimes covered.
Cover straying or theft – sometimes, a horse strays or even gets stolen. Insurance for straying or theft will cover the cost of announcing and advertising your missing horse up to a certain point. If after a certain amount of days (within 25-28 days), if your horse can't be recovered, you would be covered for the sum insured or the market value.
Public liability insurance – this insurance policy tends to protect you against the cost of injury suffered by any member of the society or property damaged by your horse. Mostly, insurers offer at least $1 million limit, in a situation where you get sued due to damages caused by your horse. Contact your insurer for more details.
Personal accident coverage – if you want this included in your insurance policy, it will add approximately $20 – $40 to your annual premium, while you and any person you've permitted to ride your horse gets insured for accidental injury and death. Specifically, in case of death or permanent disability, many insurers will offer coverage of about $10,000 - $20,000.
However, Personal Accident under a Horse policy is mainly limited to catastrophe. In the event of permanent disability, many would agitate for a weekly benefit, which is not available under these policies. It's advisable to source a separate Personal Accident policy with the inclusion of Temporary Total Disablement, which provides the holder a weekly benefit if unable to carry out his/her usual occupation. The Horse policy cover is limited to riding or handling the insured horse only.
Permanent loss of use coverage – this is an optional extra, and it gets you covered if your horse is no longer capable of performing the intended activities it was insured for. This policy helps to provide you with the sum of purchasing another horse for your initially intended purpose. However, if your horse can still breed, only some part of the amount would be covered by the insurer.
Vet fees - This covers vet bills and would sometimes require you to pay an excess outside the sum insured in cases alternatives treatments if recommended by a vet doctor – along with the cost of transportation to and from a surgery hospital, coupled with the livery charges.
David Coufal offers Horse Insurance in Texas, designed to suit you and your horse. Do not be reluctant to request a quote or make more inquiries related to insuring your horse.
Horse Insurance TX
David Coufal Agency
2549862448
12270 Moffat Road
Temple
TX
76502
View Larger Map