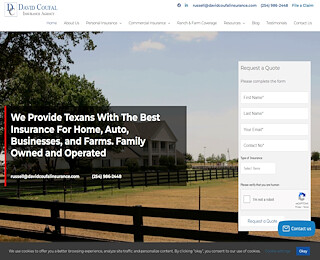 Equine farm insurance TX
There is no gainsaying that managing a horse ranch is a tasking business. Significant efforts, planning, and cost have to go into ensuring your farm is safe for everyone, including visitors and neighbors. Even with the most meticulous planning, however, accidents can still happen. And when they do, victims and their lawyers would stop at no length to milk outrageous amounts of money out of your business. The only way you can protect yourself, and your ranch is by getting a comprehensive equine farm insurance in TX. Our expert insurance brokers at David Coufal Insurance Agency can advise you on the best plan for your farm and the perfect insurance company to work with.
What is equine liability insurance?
A lot of ranchers believe that they cannot be sued because their state has Equine Activity Liability Laws. Unfortunately, too many of them do not realize this is untrue until it's too late. Anybody can sue you for the most mundane things, and you are legally bound to respond to the lawsuit. Even if the suit is eventually dismissed, you would have spent loads of money on hiring an attorney and other legal fees you incur in the course of the case.
Equine liability insurance is a policy that covers your ranching business against loss arising from damage to another person's property or injury caused by acts of omission or negligence during the performance of your duties. In simple terms, equine liability insurance will protect you and your business from clients who want to sue you for whatever accident they or their horse might have had on their farm. Equine farm insurance in TX would cover defense costs as well as claims up to the limit of your policy for which you are found liable.
How much is insurance for a horse farm?
The perfect equine farm insurance policy for your business would depend on the size of your farm and the range of activities you offer. Usually, farms with more activities or farms that produce a higher are at greater risk of potential claims. Thus, they would expect to pay larger equine farm insurance premiums.
When purchasing an equine liability policy, it is important to fully disclose the scale of your operation to your insurance brokers. This is because undisclosed operations are hardly ever covered, and your policy may fail you when you need it the most. You can contact our experienced insurance brokers if you want to know more about the cost of equine farm insurance for your ranch.
Request an equine farm insurance quote today
At David Coufal Insurance Agency, we have an unmatched dedication towards getting the best coverage for our clients without straining their budget. We are an independent insurance agency with a full appreciation of the importance of hard work and honesty, the value upon which Bell County is solidly built. That is why we only do business with insurance companies that have proven beyond doubt that they are in business to protect the best interest of their clients. Get in touch with us today and request a quote for the most comprehensive and affordable equine farm insurance in TX.
Equine Farm Insurance TX
David Coufal Agency
2549862448
12270 Moffat Road
Temple
TX
76502
View Larger Map