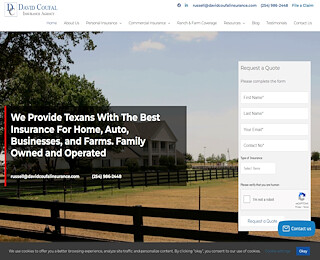 The primary role of commercial auto insurance in Temple, TX is to cover the costs of accidents that involve business vehicles. This type of insurance also provides coverage for vandalism, theft, and some types of vehicle damage. David Coufal Insurance Agency is one of the leading providers of commercial auto insurance cover in Temple, TX.
What is commercial auto insurance?
David Coufal Insurance Agency provides commercial auto insurance policies, which cover damages to all vehicles designated for business use. It is essential for business owners who use vehicles dedicated for business use or drive personal cars for business to have commercial auto insurance.
Business cars are not covered by personal auto insurance. The agents at David Coufal Insurance Agency can help you get the commercial auto insurance you need.
How commercial auto insurance works
Business owners can get commercial auto insurance for a single car or a fleet of vehicles. This type of insurance policy usually includes many types of optional coverage, which means you can adjust the policy to suit your specific needs. The policy covers damages caused to your business vehicle due to an accident or incident.
Compensation for damages can be received after filing a claim. This type of insurance policy covers for damages caused to a third party or their property, even if you or your driver are at fault. In such cases, the injured person or property owner can file a claim with your insurance firm.
A common trend among business owners today is to purchase commercial auto insurance so it can cover costs of significant liability claims, which a vehicle liability policy would not cover. This strategy protects businesses from expensive lawsuits and liability claims.
What does commercial auto insurance cover?
This type of insurance provides cover for medical payments, physical damage, car accident liability, collision, and accidents with other motorists who are not insured. It includes liability coverage that pays for damages, including repair costs to other people's properties or vehicles and legal expenses in case the other person involved in the accident decides to sue you.
Some commercial auto insurance policies include medical payments that can pay for medical expenses for injuries you sustained in the accident as well as for other passengers in the vehicle. Medical expenses coverage is usually available regardless of who caused the accident.
Physical damage and collision
Commercial auto insurance policies may also provide coverage against vehicle damage and theft, including vandalism, specific weather events, and impact with other objects. These policies may also provide coverage for damage caused by uninsured motorists.
One in eight drivers in the U.S. does not have auto insurance. When such drivers cause an accident, they may not be able to pay for the damages. Commercial auto insurance in Temple, TX, ensures you or your business do not have to pay for the medical expenses or damage caused by uninsured motorists.
It is essential to buy commercial auto insurance for all vehicles that you or your employees use for business. David Coufal Insurance Agency is a reputable firm with years of experience in providing auto insurance. Please enter your phone number and zip code in our online form for commercial auto rates.
Commercial Auto Insurance In Temple TX