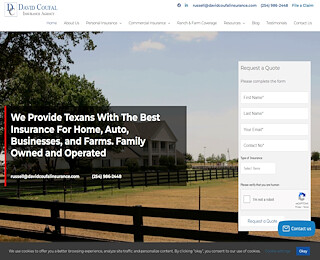 By choosing a reputable car insurance agency in Belton, TX, you'll have greater access to affordablly priced automobile insurance and peace of mind that your insurance agent will be around to assist you in times of need. If you're currently shopping around for budget-friendly coverage for your vehicle, make a call to David Coufal Insurance Agency to discover the many benefits of working with one of the top-rated car insurance companies in Belton. We're much more than just a car insurance agency- we can also help you find great coverage for your home, motorcycle, RV, boat, ranch or farm, or commercial business.
4 Top Tips For Choosing a Car Insurance Agency in Belton, TX
1. Work with local car insurance agents for a positive experience in the event that you need to file a claim. A lot of insurance companies are there for their customers when it comes time to compare rates or select a policy for coverage, but when an accident occurs, they're not as easy to be found. If you've ever tried to file an insurance claim over the phone by selecting buttons on an answering tree, you can certainly appreciate the advantage of working with a local agent who can help you every step of the way during a claim. David Coufal Insurance Agency is here for you today- and tomorrow.
2. Is your current insurance agency focused on your budget or on their own bottom line? At David Coufal Insurance Agency, we believe the best auto insurance near Belton is a plan that is tailored to your budget, so premiums don't leave you cashless after making your monthly payment. Our agents will help you compare quotes from multiple insurance providers to find the best rates on a quality policy that covers you adequately.
3. Find a car insurance agency in Belton, TX that can customize your auto insurance needs for you to ensure you're not paying more than you have to for coverage. Whether that means choosing minimum coverage for an older vehicle or full coverage for a new car your leasing or financing, you'll find a policy that's perfect for your driving needs when you turn to David Coufal Insurance Agency where Belton vehicle insurance is tailored to your needs.
4. Pick an insurance company that can provide a quote over the phone to avoid having to drive all over town trying to find affordable coverage. One call to David Coufal Insurance Agency and we'll go to work matching your driving record and coverage needs to a policy that protects you while on the road. No need to waste time going into multiple office locations to check on rates; one call does it all when you reach out to us at 254-986-2448.
Contact one of our agents today to request a free auto insurance quote- we can get you set up with same-day coverage or help you avoid a lapse in coverage. Speak with an agent now who can eliminate stress when shopping for car insurance.
Car Insurance Agency in Belton TX