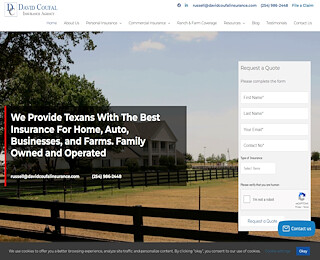 When you need affordable Belton, TX car insurance, make your first call to David Coufal Insurance Agency at 254-986-2448. Our agents will work diligently to help you find the best rates for auto coverage, regardless of your driving record. Bundle your car insurance with a homeowners policy and you'll save even more; simply let us know about your coverage needs when you call our office or request a quote through out website. Instead of buying insurance from a big-name company that will treat you more like a number than a real customer, connect with a personable agent from our company who cares about your budget and your coverage needs.
4 Ways We Save Our Customers Money on Belton, TX Car Insurance
1. Are you a high-risk driver? You may have noticed your rates increasing or you may have even received a letter from your insurance company telling you they would no longer be able to offer insurance coverage on your vehicle. We work with high-risk drivers, new drivers, and motorists whose driving record indicates insufficient maturity behind the wheel. The bottom line- we'll help you get the coverage you need while you work to lower your risk factor and lower your insurance premiums.
2. Are you a preferred or super preferred driver? You can access the lowest rates on all types of car insurance, whether minimum coverage or full coverage, simply by contacting our office. Your driving record positions you for significant savings for as long as you continue to drive safely and demonstrate your experience as a motorist.
3. If you're shopping for auto insurance and you own your own home, you could qualify for deep discounts on both policies when you bundle them through our agency. Home and auto insurance are just two of the numerous coverage options available from our agency; we can also find you great rates on renter's coverage, flood insurance, boat insurance, ranch & farm coverage, commercial insurance, health insurance, and more.
4. The old adage 'time is money' is never more true than when it applies to spending time researching or gathering information. If you're currently calling around or checking out insurance companies online, an agent from our office can save you time by doing the work for you. Call David Coufal Insurance Agency and let us know a little bit about your coverage needs. We'll search our database and get back to you quickly with the very best rate on quality insurance.
There's a reason why so many Texas drivers choose us for Belton, TX car insurance- we're more than just an insurance agency. All of our employees genuinely care about our clients. If you need to file a claim, you'll benefit from in-person contact with a knowledgeable agent instead of being on hold with a big-name insurance company whose only interest is their own bottom line.
Make a call to David Coufal Insurance Agency at 254-986-2448 and let us go to work for you. You won't regret choosing our agency whenever you need coverage to protect your vehicle, family, home, or assets.
Belton TX Car Insurance