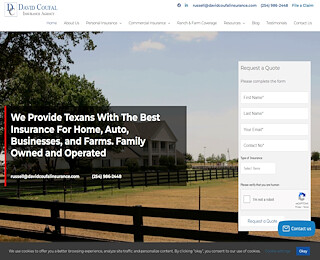 When an insurance company fails to provide financial compensation when you suffer loss as a policyholder, it can be quite distressing. Sometimes, this failure to pay up claims can be well within the contract. Other times, however, your insurer could be illegally withholding the funds that you deserve.  
At David Coufal Insurance, we work closely with our clients to ensure that they don't find themselves in stressful situations. Farmers looking for a crop insurance agent in Central Texas are assured of finding the best agent who has the experience needed to help protect their interests when dealing with insurance companies.
How to Make a Claim for Crop Insurance
Once a loss occurs, you may find it difficult to navigate the insurance claims process, especially given some of the complexities involved with insurance policies. That's why it's important to know the steps to take, in advance, in case of crop loss.
Notify Your Agent – Inform your insurance agent of the loss as soon as it occurs. This is because your claim may become void if you wait too long before reporting it. It's crucial to keep a record of all the communication between you, your agent, and the company regarding the loss. Once crop damage is discovered, a farmer generally has about 72 hours to notify the insurance provider of a possible claim.
Keep the Damaged Crop – Your first instinct may be to destroy any damaged crops, but that could cost you your insurance payment. Don't harvest, move, or get rid of anything until an adjuster has visited the farm and made their report.
What Should You Do When Your Crop Insurer Refuses to Pay a Claim?
If your insurance rejects your claim, you should:
Consult with Them – After the rejection of a claim, it's necessary to understand why the firm has refused to pay for damages. One of the reasons could be that the losses you suffered were not included in the policy. However, if you find that there's no justifiable reason for the rejection, you can pursue other avenues to try and demand the compensation you deserve.
Write a Complaint Letter – If you don't agree with the insurer's decision to reject your claim, write a letter addressing the complaints you have. In the letter, express why you feel you deserve compensation, making sure to include any evidence. This is an essential step that allows you to go to authorities such as the Financial Ombudsman Service (FOS) if the company's response to your complaint isn't satisfactory. The FOS will look into the circumstances and facts of your complaints, and if you deserve compensation, they'll ask the insurance company to pay you.
Can You Switch Insurance Companies?
If you feel that your current insurer isn't serving you well either because of unpaid claims, high premiums, or any other reason, it's possible to switch companies.
An insurance agent can help you switch insurance companies at the right time. The agent will research potential companies and their rates, compare coverages, and finally, once they've found the right insurer for you, help you cancel the old policy. 
Get the Representation You Deserve
At David Coufal Insurance, we have a committed crop insurance agent in Central Texas who'll assist you in navigating any issues when it comes to crop insurance. We're familiar with the insurance industry and can help you avoid situations that may lead to frustrations. Give us a call today on +(254) 986-2448 for a consultation.
Crop Insurance Agent Central Texas
David Coufal Agency
2549862448
12270 Moffat Road
Temple
TX
76502
View Larger Map