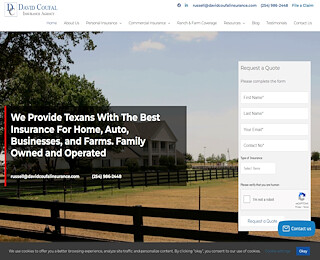 As a farmer, crop insurance is as important as life or auto insurance. This is especially true when you've invested heavily in farming, and it's your main source of income. Like all other types of insurances, you should look for a policy that provides coverage for the incidences that can cause damage to your crops.
If you're in Central Texas and you're looking for a crop insurance agent, you can get a qualified, experienced, and dedicated agent from David Coufal Insurance. We have a rich history of working closely with farmers to get them the best insurance covers to protect their yields and investment.
What is the Importance of Crop Insurance?
Getting crop insurance can protect you from losses that occur as a result of disasters such as hail, fire, vandalism, or floods. Some policies also include crop failure. A majority of crops are covered, including cotton, rice, and wheat. An insurance agent can help you find the crop insurance policy that serves your needs best.
Why Should You Get An Independent Insurance Agent?
Here are four reasons why you should get an independent insurance agent:
They Shop for the Best Deals – Independent agents are not committed to one insurer, and can, therefore, look around for the best available deal for you. Basically, they put your interests above those of the company.
Time-Saving – By using an agent, you're able to check out different insurers and policies from one place without having to visit different offices. This saves you a lot of time and also allows you to make sound comparisons.
Give Advice – If you need any clarification about an insurance policy, your agent will take the time to help you understand everything that's in the contract. The agent can also advise you on the different ways to manage risks, which helps you to get better insurance quotes.
Negotiation Services – When you need to bargain the policy price, make a claim, or change an insurer, your agent can serve as a middleman between you and the insurance provider, making the process easier and faster.
Common Mistakes to Avoid When Buying Crop Insurance
When buying crop insurance, you should avoid the following mistakes:
Failing to Compare Quotes – Signing a contract with the first crop insurance company you come across can be a costly mistake. No matter how good the deal seems to be, make sure you get quotes from at least three firms before making the final decision. This will ensure you get the best coverage at the best price from the most reliable insurer.
Looking for the Cheapest Provider – You can shop online and find the cheapest deals and special offers that almost look too good to be true. Some insurance companies advertise how much their customers save compared to most insurance providers. But what they tend to omit is that those savings come at a cost.
Get the Best Coverage at the Right Price
At David Coufal Insurance, we'll provide you with a crop insurance agent who will ensure that you get the right policy for your needs. Give us a call today on (254) 986-2448 for more information about the best cover for you.
David Coufal Agency
2549862448
12270 Moffat Road
Temple TX 76502 US